Copyright © 2001 by Jo Harris Fischer, all rights reserved.
Part I. Pre-Missouri Years
4. 1809 to 1812 Illinois Territory
Explanations:
In 1809 the Illinois District separated from Indiana Territory and became Illinois Territory, indicated in green on the map. The Louisianna Regions (of the old Illinois District of Indiana Territory) were renamed Louisiana Districts (upper and lower) and remained attached to Illinois Territory until 1812. Lower Louisiana District is 6 Bulls from which Missouri State evolved.
Verifications:

Book: A History of Missouri by David Muzzy, published 1936 (reprinted in 1956).

Map rendered by Frances Deis Harris and presently owned by Jo Ann Louis Harris Hamilton Fischer.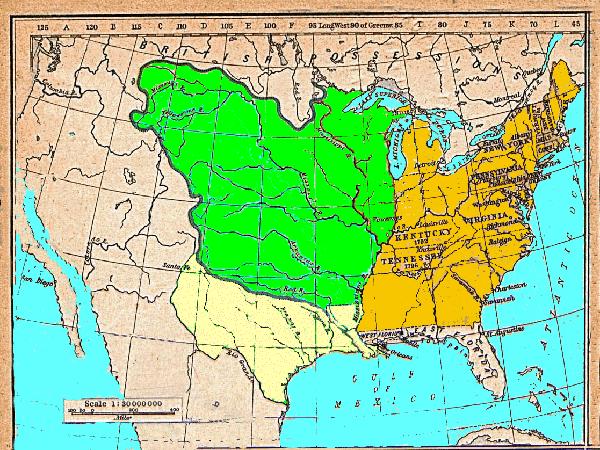 ---
Dallas County Historical Maps
Previous Map: Indiana Territory, 1804-1809
The Dallas County MOGenWeb site is maintained by Comments and contributions are welcome.
Copyright © 1997-2009, all rights reserved.
Last updated: Friday, 24-Oct-2008 17:28:58 MDT