Agee Family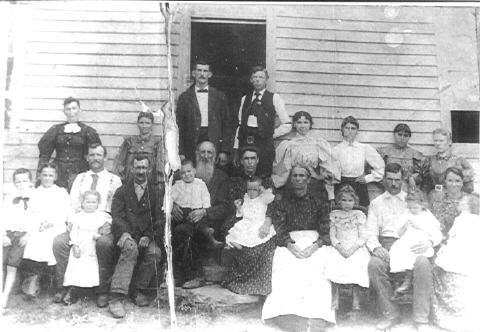 This is a photo of the Agee Family of Foose, Dallas Co. taken about 1897.
Front row left to right:
George Agee (Tim's boy)
Gusta Agee (daughter)
Pansie Agee (daughter)
Wiseman Agee
Unknown
Robert Wilson Summers (holding his son)
Omer Alvin Summers
Susan A. Agee Summers (holding her son)
Owen Summers
Mary Elizabeth Verdot Agee
Elsie Lettie Agee, daughter of Ai. & Louisa Agee
Ai Atkinson Agee (holding his daughter)
Venie Jane Agee
Louisa Brown Agee (holding her son)
Elmer Larkin Agee
Second row left to right:
Unknown
Unknown
Thomas Ransom Agee
Jesse Knight (step son of Nancy A. Agee Knight)
Effie Viola Hoobler
Flora May Hoobler
Maude Hoobler
Julia Elvina Agee
Photo submitted to the Dallas County MOGenWeb by Nancy Norris.