Elkland's Civil War Veterans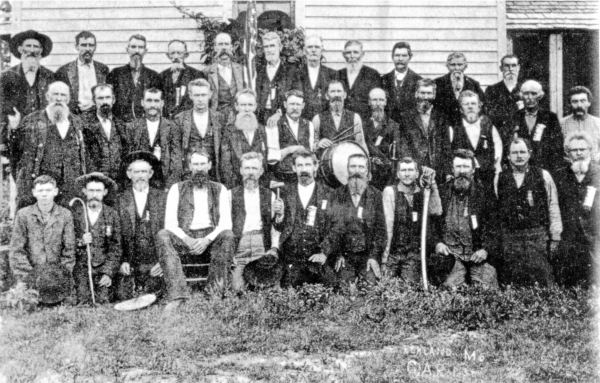 This photo of Union Civil War veterans who were members of the Elkland Post, Grand Army of the Republic, was taken at the home of J. H. Davison in Elkland, Webster County, Missouri, on July 24, 1897. Some of the men had been residents of Dallas County.
Front row, from left: Bert Labarron, Swain Hicks, ________ Hagen, Rube Miller, B. F. Fullbright, Ira Rany (Commander), George Crawford, Joe McMarkey, Newt Wheeler, Ike Bingamon, and J. H. Davison.
Middle Row: Solomon T. Reaves, Frank Craig, Francis Gann, France Anglen, ________ Greer, Dr. Brown, John Carter, Harry Erickson, Jim Rae, Billy Davis, William Anglen.
Back Row: W. G. Case, ________, ________, Mayberry King, Lewis Gann, I. K. Whitson, ________, ________ Horner, Bill Phiefer, George Phiefer, ________ Lusk.
If you can identify any of the unmamed men please email Gary Swift.
Photo submitted to the Dallas County MOGenWeb by Dorretta Moore.