Smithpeter Mill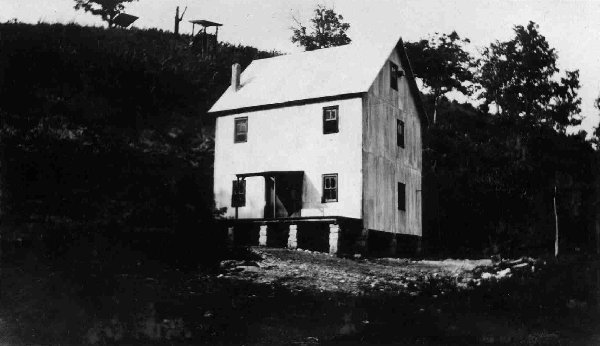 The first mill on this site, northeast of Buffalo close to the Riverview/Sweaney Church Cemetery (Twp 34-N, Rng 19-W, Section 17), was erected in 1846 by William Edwards. As the mill's owners changed so did its name: from Edwards, through Randleman, Sturdevant, Downs, Foster, Scott, Southwick to Smithpeter.
These photos are of the fourth mill and the second dam (made of concrete) on the site, built by Burt Smithpeter sometime after 1906 and before the dam was washed out in 1914. When the dam gate was opened water would drop down the chute to power an underwater turbine. The Watermill Steel Bridge was erected nearby in 1922. After its demise as a mill the building was used as a dwelling, still and cat house, until it was purchased by Jerry Sweaney in 1943. A history of this an other mill sites in Dallas County can be found in Glenn Skinner's The Big Niangua River.
Photos submitted to the Dallas County MOGenWeb by Karen Shapiro and identified by Linda Crawford. The photographer was Hazel Hunt, Karen's great-aunt.