Pearidge School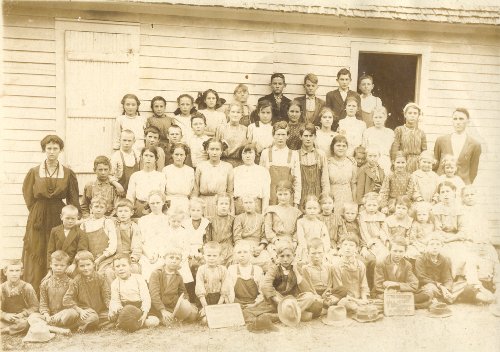 This photo of the Pearidge School was taken in September 1913. The Principal was Hosea Creek and the teacher was Blanche Ellis.
Left to right starting with the top row:

Daisy Phillips
Essie Reeves
Eunice Day
Flossie Chatman (Chapman?)
Bert Hildebrand
Henry Day
John Jones
Floyd Dugan
Calvin Hicks
Harry Scott
Raymon (?) Day
Verna McKee
Roscoe Phillips
Ida Wilson
Ida Reeves
Paralee Phillips
Audrey Scott
Minnie Phillips
Minnie Jones
Lula Jones
Roosevelt Hildebrand
Mauda Peppers
Effie Chatman
Esther Dugan
Bessie Peppers
Herbert Scott
Early Hildebrand
Ima Bramwell
Owan Coffelt (?)
Homer Reeves
Tressie Adams
Lorea (?) Scott

Oma Rice
Roy Scott
Lloyd Hicks
Jesse Rice
Frances Arrowsmith
Mabel Phillips
Rissie Phillips
Opal Sharp
Elma Wilson
Ethel Coffelt
Oma Murrell
Omega Sharp
Ray Sharp
Eva Perryman
Edith Perryman
Inez Perryman
Ada Perryman
Clara Phillips
Henry Adams
Morris Coffelt
Gleamon Coffelt
Aress Day
Roy Jones
Charley Wise
Harley Peppers
Luther Jones
Oscar Wise
Milton Rice
Elmer Perryman
David Phillips
Lester Wise
Hosea Creek, Principal
Blanche Ellis, Primary
Photo submitted to the Dallas County MOGenWeb by Steve Highbarger.